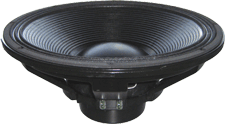 21" Super High Power Woofer

New

Beyma Patent 'Helicex Technology'
8 Ohms
25Hz-1.2kHz
Max. Crossover Freq. - 200Hz
Large 5" Voice Coil
Very High 15.0mm Xmax
60mm (Peak To Peak) X Damage
1,600 Watts AES
3,200 Watts Program
High BL Factor of 32 N/A
Lightweight Neodymium Magnet
Incredibly Strong Deep Bass!

Item Price: $759.95