Eminence Cabinet Design Software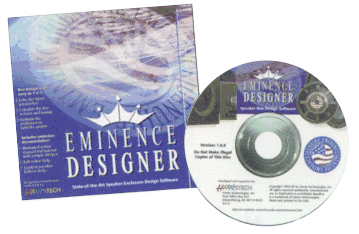 No Longer Available
Eminence Designer is a state-of-the-art speaker enclosure design program for PCs running Windows 7, Vista, 95, 98, NT4 or later.
Eminence Designer models closed, vented, bandpass and passive radiator boxes. It will print box drawings and graphs for a professional presentation.
Eminence Designer is quick to learn and easy to use. When the program is first run, a "Welcome" window will appear to help you configure the program and to guide you through its illustrated online manual. The online manual contains a "Box Designers Guide" to help beginners learn about sound, speakers and box design. A "Reference" section describes every feature of the program.
With Eminence Designer, box design is as easy at 1-2-3:
Enter the speaker parameters (for Eminence speakers, simply select the model; other speaker parameters can be entered manually).
Calculate the box volume and tuning. This is very easy with the help of the "Suggest" box.
Evaluate the performance with any of the nine graphs.
SYSTEM REQUIREMENTS:
Microsoft Windows 95, 98, NT4 or later and a compatible computer (IBM PC with a Pentium processor or equivalent) with at least 16 MB of RAM (32 MB recommended), 17-23 MB of free hard disk space and a CD-R compatible CD-ROM or DVD drive. The Arial and Symbol TrueType fonts must be installed (both fonts are a standard part of Windows).

US Speaker, LLC